賀!本系大三學生 宮梅琳(Jessica Gonzalez) 與其團隊 UpRoot 即將代表本校赴英國參加Hult Prize Global Accelerator Program! 請大家踴躍支持!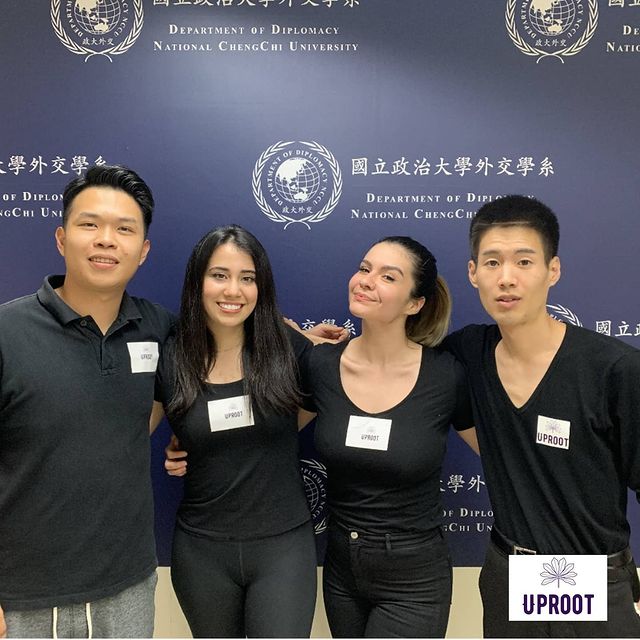 Hult Prize is a non-profit organization and startup accelerator, created by the Clinton Global Foundation and The Hult International Business School. Through the Hult Prize Challenge, the world's largest social entrepreneurship contest, known as the"Nobel Prize for students", seeks to create, develop and launch business ideas whose objective is to solve social problems that millions of people in around the world, through a convocation chaired by characters such as the former president of Bill Clinton, which encourages participants to solve a challenge in a multidisciplinary way. Winners receive $ 1 million in seed capital to develop their entrepreneurial idea, as well as help and advice from the international business community. Every year the Hult Prize chooses a challenge, this year it's food.
UpRoot, a team of Paraguayans and two Taiwanese from the National Chengchi University (Taipei, Taiwan), was one of the "2021 Hult Prize Global Accelerator, Wildcard Winner".
The steps of the competition are as follows:
1- Competing at the university level, competing between the teams of a respective university
2- The best team chosen, competes at the national level
3- The best team chosen competes at the regional level
4- There is a 4-week online competition with all the best teams in the world, the "Hult Prize Global Accelerator", we are currently in this phase of the competition. Where we must collect 22 points in 4 weeks to go to the semifinals in a castle in London.
5- Finally, the best 6 teams go to the United Nations, and there a winning team is chosen, where the best team receives a million dollars for Bill Clinton to start the venture.

Who we are and what we do?
We are all students of the National Chengchi University:
1. Jessica Gonzalez, Paraguayan, student of International Relations and Diplomacy. 107203032
2. Doris Woitschach. Paraguayan, student of Economics. 107208030
3. Chachin Lee. Paraguayan, from a Taiwanese family, student of International Business. 104301038
4. Chieh-Yi Lu, Taiwanese, Chinese literature student. 107101065

The objective that the Hult Prize encourages us to develop is to solve a problem through food. We as Paraguayans choose cassava.

The problem we are solving:
We are a startup that seeks to return to nature by developing biodegradable cutlery.
With an innovative product typical of our land, we identify cassava as a strategic food for our impact.
Paraguay faces two big problems right now: food waste and plastic pollution. UpRoot can solve both cassava waste conversion in cups by cassava starch polymers.

How can a humble root have a great impact?
Solution: We are converting what was considered 0-value waste into raw materials for the next production cycle. Using cassava bagasse, we innovate and design a wide variety of high-quality product lines, but we found a solid starting point with cups. These products have a perfect thickness, withstand high temperatures and are completely biodegradable in a natural way. Best of all, we are approaching an unlimited supply!
Unlike recycled plastic alternatives, if our biodegradable products are dropped in a humid place like water, the dish will break down and can even become fish food. There are two benefits: first, generating zero waste and second, it becomes a resource for flora and fauna. A small ecosystem can flourish in the place due to the properties of yucca.
2021 Hult Prize Global Accelerator
We are currently at point # 4 that we mentioned. There are 4 weeks where we have to meet a list of requirements to complete 22 points and go to the semifinals in London. Every night we must attend online workshops, meetings with our coordinators once a week, and every Friday we must present live in front of juries, every Friday we have to see progress. We finished week 1, now we go to the second.
Paraguayan and Taiwanese students, representing the National Chengchi University and we expect support, media exposure, connections, expertises, feedback from our University.
Social Media
Instagram: https://www.instagram.com/uproot.py/
Facebook: https://www.facebook.com/uproot.py
LinkedIn: https://www.linkedin.com/company/74094484/admin/
Official video: https://www.youtube.com/watch?v=QfX0WyvAQQk